Archives : 2007/2008 - 2009 - 2010 - 2011 - 2012


22/12/09

Happiness is as simple as .




. A small foot and little toes which fervently cherishes a kitten looking for cuddles :-)


28/11/09

I had always believed that Jacky liked only the comfortable places because she is a princess.
But no. Like the aquarium, she adopted the tumble-dryer more than one year after all her companions' cats who practise it since a long time.
Jacky is not a princess . No . She is just careful: before passing in the practice she wants make sure that nothing can arrive to her (and it takes time, apparently ;-)





07/12/09

Goodbye aquarium!!

After several months of hesitation and in spite of our cats who liked playing the tightrope walker on the edge, we decided to separate from our aquarium.



Nevertheless Jacaranga-after more than a year of TOTAL ignorance- had succumbs to the appeal of the wide (Mfff to the appeal of the aquarium's water ).




Maybe due to seeing her friends diving there (to flop would be more exact;-) regularly?

However we exchanged our 320 liters by a smaller one of 15 liters with for only inhabitants small shrimps.
Cats have certainly suite in the ideas: They very fast appreciated this new "toy"





28/11/09

Elium is gone with his new family
After 5 months with us, let him go was not so easy. He was so round and cuddliest...
But I am happy THIS family is his now!





23/11/09

Our kittens discover the music!!
We could believe we were in summer, when windows are half-opened and that the wind makes soft sound with the carillon .





22/11/09

A sunbeam, a stalk of fresh air... and our cats are happy!





30/10/09

Our little sheep is available.
Elium is 4 months old, and quietened well: the most turbulent of the tribe became a very lovely incredibly affectionate and purring (yes! All this!!) kitten, looking for cuddles and for attentions :-)





29/10/09

Niran Dao and Jin Daa (Chamade x Saffron) are great travelers!
They followed their mom for a whole week in her wanderings to find THE house of THEIR dreams :-)
Eh yes!! To move from the "côte d'Azur" to "Bretagne", it takes a little time!!

Whereas Niran Dao sleeps on the footpath of the car.




. Jin Daa stays on the rear window...
And peoples, who are in car behind, make "hello" :-))



As would say her mom (who is very proud of her small marvels) (who would not be?) (Yes I am still in self-satisfaction) (but it's normal because I'm their first human mom, let us not forget it;-)) ...
thus I said - as would say Christelle: " some people have a toy-dog which moves the head, ME, I have Selkirk with true fur . It is much more smart " :-)))


21/10/09

Our kitty girl Ermione is apparently very well adapted in her new home:
For friends, she has a rabbit, and an "Coquer Americain"- that she only appreciates behind the window......
But Ermione loves very much her "Golden Retriever" friend :-)




It was also told me that this young lady finishes plates. even if they have just been put on the table:-))


17/10/09

Elliot and Elton in their new home :-)
They do EVERYTHINg together:

Eat...




Play... (with the silk pillows, the remote control and the mobile phone... and without forgetting to go to search in mom's bag....)



And finally sleep... the best moment of the day;-))





13/10/09

My sweet Jacaranga...
Jacky is more serene now there's only 2 kittens at home: fewer cuddles to share :-))





11/10/09

Our sweet Etoile





10/10/09

Our first litter (without forgetting Dad Saffron and Mom Chamade) immortalized by Christelle (Mom - human mom- of Jin Daa and Niran Dao).
This immense fresco was friendly offered to us by Christelle:-)
Thank you!





07/10/09

Welcoming committee at the exit of the shower: Kiki and Elium are there to dry in their way the feet of their Diviiiiine Mom;-)
Don't ask any more the question: yes, yes I am a seriously mad woman: I take my camera (almost) everywhere!





29/09/09

Ermione, Etoile and Elton send us kisses and purring from their new home.




Only 3 kittens at home, all became more quiet... and our babies are even more affectionate.
Sweet kitties at 13 weeks old


28/09/09

Sunbath for our babies




26/09/09

Elium is available :-)





23/09/09

A little brunch with Auntie Chamade!





15/09/09

To us, it's not so easy to work .
When I want to settle down on the table or to sort out our papers, my kitties arrive and settle down exactly on what I have to tidy.




The time to leave- looking for the camera- and it's Miss Jacky who takes my place .


A small blow of eye to see if a chair is available... And here is the result .




Thinking they are sleeping, I go to the computer. Hardly some minutes later: I have 1 of them on my knees, 2 on the desk and.




. another in my arms, just waiting for his cuddles!


It seems that I'm not anymore the leader in MY home...!!

Photos of these little monsters at 11 weeks old


14/09/09

Our babies have discovered a new small part of paradise.
Our mezzanine...




New because until now it was FOR-BI-DDEN...


The mezzanine looks onto the space, and kitties are so "crazy" at this age that I am afraid that they fall .
But in spite of all the dams and the stratagems set up to forbid them the access, they find the way to go there .




Thus, now we let them free go where they want by relying on their balance (and in their commonsense. well. if a kitten of 12 weeks old can have it;-))


13/09/09

No, no!! This small marvel doesn't belong to us!
We wish to diversify our colours in the next months (years?)... But it's difficult to find Selkirks with a good type not looking like (curly) British, or (curly) Persians. Thus it's necessary to be patient :-(

When I saw Tina (see below) I fell under her charm...
But her breeder decided to keep her (I still wonder why? ;-)
You can see Monika's curly on her website: Jacobi-Cats





07/09/09

Always- ALWAYS- have a look where you want to sit down...




04/09/09

I don't resist posting a photo of my kitties (very) close-up.
Yes-yes, it's self-satisfaction;-)


The dizziness?? Not in our genes!





24/08/09

Niran Dao is the girl of her mom (sure!):
Without aquarium at her disposition, Niran Dao refreshes her buttocks with the water in a washbasin;-))





23/08/09

Chamade always liked sleeping on the edge of the aquarium.
It's probably not very comfortable, but it doesn't seem to disturb her.
Nevertheless, for the 1st time, Chamade forgot where she was and met herself buttocks in the water!




I have to say that the noise of the "splash" got me into panic by imagining that one of the kittens had fallen in the aquarium (very too small to go out by themselves), but when I saw my Chamade shaking- fervently- her buttocks I was able only to roar to laugh!!!


21/08/09

Etoile, our Miss homo, has a futur mum fond of her.
Thank you, Dominique, for pictures :-)




Our babies at 8 weeks here.


14/08/09

It's so funny (and not dangerous, noooo!!) to mess around near all these threads...!




New photos of our FABULOUS (sure!) babies ;-)


13/08/09

Find the cat...!




Yes... Our daughter doesn't like the arrangement...
What is not a problem for our kittens...





09/08/09

Jin Daa and her incredible hairs!





08/08/09

Here is the small paradise of our daughter... and our kittens too!




After the games, time to sleep.
For some very comfortably...
... For others a little less !




05/08/09

Any resemblance between our kitten and Miss Ostrich would be only the fruit of your imagination!!




29/07/09

Our kitties grow and are- obviously!- more and more beautiful





25/07/09

At the end of the day, near 6 p.m, Chamade is always held in the same place .
She waits.... She waits for the light which enters through the window and makes shimmering reflections on the ground.
Chamade becomes hysteric and jump on the tasks of light...
One moment of pure madness!



Photos are vague I know but try to photography a cat who runs and jumps everywhere!!


19/07/09

Emmbé loves water, FRESH water only!




18/07/09

Hurrah!!! Our babies begin to look like something!!!
They are so cute. and more and more charming .
When you arrive they run (hum. they arrive wobbly ;-)

So small but so sure to manage to climb your knees when you sit on the floor, that they are more amazed than you to meet themselves bottom over head!
Nothing frightens them. except maybe the monstrous mouse in thread (2 cms long!!) which sometimes is between them and me!!

See our little miracles !





17/07/09

Our homozygous young Miss has a fan who offers us this nice photomontage,
Thank you Dominique :-)




06/07/09

Curse!
Carma is a devoted mom. Really.
But a badly closed door and she meets Saffron for some seconds. again.
No matter the 6 babies arrived 2 weeks ago due to their first flirt . I don't dare (well, I just CAN'T) to imagine what they have done .

The babies have all opened their eyes and I find them very cute but, objectively, they still look like little gremlins;-)




03/07/09

Nothing is too beautiful for Jin Daa and Niran Dao .
Their mom bought them nice necklaces from the USA.
Nice necklaces, very '' bling bling'', with very personalized inscriptions .
Christelle tried to photograph necklaces in situation (on cats, I mean;-) but the result ...
Well. this result has the merit to show us the very great curls of the stomach of Jin Daa .




... And the attractive behind of Niran Dao.



Without forgetting halves of the inscriptions on halves of the necklaces (on halves of the cats ;-)




Finally, Christelle decided to be more cunning than her cats to show us their necklaces …




"Bad Girl" for Jin Daa because of her reputation of " terrible young lady ".
Christelle takes advantage of it to assure us that it isn't true any more and that the Miss is a " big quite soft teddy bear ".
" No Future " for Niran Dao because of her punk's crest (due to the loss of her hairs which left her only a row of LH on the back:-))


02/07/09

As would say Florent and Stéphanie... " Hinano you are beautiful " (in French, that puts into rhymes)
mmffff... am all right with you: they will not make career as lyric writers (nor as singers moreover, because -me- I was entitled to the sung version of " Hinano you are beautiful ", with the bangings of fingers and everything and everything;-)...
I am still quite... moved? returned? (Sorry?) Stunned?
Have you noticed? I don't find any more my words ;-))



Nooooo!! Without laughing, your song is great (I am sincere) (yes yes) (I swear!)


29/06/09

Such a hard hard life :-))


Photos of kities at one week here


28/06/09

We could believe that Véronique, Elfie's mom, doesn't give to her. nor to drink .




... Nor to eat!



In fact, Miss Elfie refuses to drink in her mess tin and prefers to play Robinson Crusoé by finding alone her water!

Robinson Crusoé, All right, but with a minimum of comfort;-)




My wonderful Elfie. so majestic .


25/06/09

With such a perfect mum, our babies are growing well!
We have (almost sure!) 2 girls (1 homo) and 4 boys.





21/06/09- Rectif!!

6! they are 6!!
Before this evening they will be 8 or 9... at least!!

21/06/09

Since yesterday, Carma had whims of pregnant girl (no, no!! No envy for strawberries):
She settled down only in places (very) in height, or scratched fervently the door of a cupboard to open it and go to settle down on a shelf. Naturally no glance for the nests installed by her Devoted Mum (I, thus, but you had guessed).

The work finally began this morning and 5 small spitzes arrived!



While Carma makes all the job . Saffron waits quietly for the arrival of his offspring .
He could at least pretend to be interested by going and by coming in corridors and by smoking a cigarette, no?!! ;-))



And here is one of the 5 small fruits arisen from the unexpected meeting of Carma and Saffron, thanks to a passage of vacuum cleaner .
Long live the housework....




18/06/09

News of our babies!!

Emmbé ... Big Explorer (of balcony)...
... And Big Admirer of cosy places :-b




Niran Dao and Jin Daa found a new object of fascination:
Bubbles in bottle - that changes of the TV, but, finally it's the same thing: impossible to put the paw on what moves behind :-( !!!




TWO cats on the back waiting for their evening cuddles.
Nature is perfect: Christelle has TWO hands!





16/06/09

Who behaved as a naughty girl? :-))





15/06/09

Bad bad idea...

Now the time where Chamade lost her beautiful long hair.
Everywhere except bizarrely on her tail which had remained very supplied .
It was really very ugly, then .



... I took a pair of scissors so that the tail of Chamade is in compliance with the rest of her body;-)
I would not have owed .

. Hideous, hideous!!


06/06/09

Carma the plump is the only one of our cats who still has her attractive fur in this period.
She begins quite slowly to lose her hairs at the level of the head, of the necklace, and the legs before .
So, if you see her by the face she looks like "short hair ", while seen by the back, she is a lady " long hair "...
... 2 cats in one . ;-)





28/05/09

Terrible Jin Daa takes care of her sister.
It appears that the leg delicately put on the body of her sister is not an excess:
Niran Dao being very involved in what she does- in this case: sleeping (ah, nooo!! Forgiveness!! meditating;-) - Forget that she is in height:
it regularly happens that their mom Christelle hears a "BANG"
I let you guess about what it is!!

Thank you Christelle for these little stories :-)





27/05/09

It seems that our cats are not just "cats in sheep clothing", but also "cats in fish clothing"!! Indeed, Elfie likes playing in the bathtub WITH water into, please!! ...
... And dry herself on the computer . Nice Elfie.!



And the dad of Emmbé informs me that he prefers to drink and to wade in the water of washbasins rather than to lap in his mess tin!!

Jin Daa And Niran Dao also like very much the bathtub...
But on the edge, or possibly inside but WITHOUT water!




23/05/09

The philosophic thought of the day comes from Christelle, the mom of Jin Daa and Niran Dao:


« The ones who say that cats are lazy which sleep 20 hours a day are liars.
The cat does not sleep.
The cat meditates. Profoundly.
And sometimes by snoring. It is their "Ohm" ;p »




So that the girls don't meditate too much (we wouldn't use their brain?;-), Christelle had settled specially for her " TV addicts " a table at the level of TV!
Before, it was on the point of paws (not necessarily very comfortable, right;-) , now they sit very quietly, even collapsed sprawled out...




Why so much love in front of this TV? You wonder.
It is simple: the mom of Jin Daa and Niran Dao bought them a DVD " special cats " (yes, yes, it exists!) imported specially from England (they are crazy these English) (English Friends who are reading me, please, don't hold it against me too much!!).

Life is great at Christelle's home :-))


21/05/09

Carma, romantic girl?




Ohhh nooo!! Just 4 or 5 minutes with Saffron during an inconvenient meeting (news of 17 avril)... And now you can see her "small" stomach becoming round.
Births planned in approximately 1 month.




I knew it... you may plan future matings, inquire for a meeting with another stud
All in all, the cats decide when, who, and how! In definitive they have the last word!

Carma has put all my 2009 plans out of the window (naughty girl!), I hope we'll have nice healthy babies. :-)


19/05/09

Hinano, future stud ?!!




Hinano will be available for outside mating until he is approximately one year :-)
Still a little bit young ( 4 months and a half) but very promising .
Hinano will be married only with selected tested ladies!

Hinano is a heterozygous Selkirk rex blue silver mackerel tabby,
Carrying the no silver, no tabby,
Possible carrying lilac (both parents carry it), and with a lot of chance can carry the colorpoint gene.
His coat is absolutely fantastic.

Parents tested DNA PKD negative.

Hinano lives in north-east of France, in Nancy.
If you are interested, please contact me!


18/05/09

Emmbé in his new home :-)




Emmbé has already a favourite place: in front of the window, near the balcony, on a pure cotton cover from Djibouti!




15/05/09

Endy- according to his dad is " 1 kilo of tenderness + 1 kilo of energy, what gives us 2 kg of love " (life is beautiful, isn't it? :-))

Endy has also a lots of qualities:

He is a great gardener...



(... or a lazy gardener?) !!




... He is also a great hunter...




(... Or a friend of mouse?)...





13/05/09

Photography session improvised for Carma...




Jacaranga, on second plan -and probably a little bit jealous? - found a good idea to point out :-))




"What?? What about me??"





09/05/09

Happy birthday to our babies who are 4 months old today!!




And Thanks to all of you who send us messages of tenderness for emmbé...



... who sends you the softest kisses :-)


07/05/09

News from our babies!!

Enjoying Elfie...





Jin Daa and Niran Dao... "TV Addict" according to their mom!!
Mmmm???!! Rather a good way of having peace ;-)





And Emmbé, at home since yesterday...
Adorable, affectionate, purring, player... A small ball of hairs we want to play up and to caress all the time!





04/05/09

Sad sad WE for us, lover of our babies...

The mom of Emmbé informs us that she can't probably keep him for personal reasons:-(
Our lovable kitten should be back at home this week.
Don't hesitate to contact us if you want to know more about him.


Don't believe what you see... Emmbé is full of energy!


And Elfie gone to Switzerland with her mom Véronique yesterday...




29/04/09

Photos of Jin Daa and Niran Dao... on top form!!



Litter's sisters but with a very different character...

Their mom understood everything (I quote): "if they were human, I shall lead Jin daa to the boxing and Niran Dao to the club of chess:-) I think that it corresponds to their temperament"

Very funny, and especially very true:-))


25/04/09

Sweetness in cats' world (bis repetita;-)






23/04/09

Sweetness in cats' world




Endy and his friend Paco: A duet of an absolute tenderness...

See more about Endy's new life


22/04/09

Well.
Not very happy these times.

My little Niran Dao and Jin Daa left with their new mom yesterday. I know that all my kittens found excellent families, but it's hard for my little heart!
I knew that it would be difficult but not like this...




Since more than a month Elfie was on option for Véronique.
Véronique is Swiss and allergic to cats (well, no link between these 2 points;-) ;-)




Selkirk is a not allergenic renowned cat, but it's not proved scientifically, Véronique and I had to assure that her allergy would not show itself...
After a visit, a lot of "playing" with cats, and some hairs cut in an envelope to inhale and touch them several times a day, Véronique doesn't seem sensitive to Selkirk's hairs...
To my big regret, I have to admit it!
Because I had (I always have) very envy to keep Elfie, although it is not reasonable for a whole heap of (good?) reasons :-(

Thus, Miss Elfie will leave the house in 2 or 3 weeks...


19/04/09

News from our babies:

Endy with one of his new friends Big Paco (8 kg. !)
You can see adventures of Endy and his friends here :-)




And Emmbé watching TV. More exactly the "wheel of fortune".
Ghislaine, his new mum thinks it's because of the rolling wheel or because of the dog..
... Innocent she is!! It is for Victoria Silvstedt-necessarily (Note: a lavish blonde ;-)





17/04/09

Miss Carma- very... well... just have a look on illustration ;-)



... So hot, that she braved the noise of the vacuum cleaner to meet Saffron.

Usually this noise is enough for the cats stay each one on their place and I don't need to close doors while I do the housework: nobody moves .

But, this time, hormones are the strongest, because after 5 minutes with opened spaces which usually separate Saffron from Carma, I saw (well. I heard), in spite of the noise of the vacuum cleaner, -do you know "enjoyments" of the breeding? ;-) that this lady was with Saffron and rolled about on the back .

So one situation, 2 possibilities:
She was trying to charm him... or the "fault" was made .

I really hope that these 5 minutes of inconsequence (for me), but happiness (for them;-) will not give births because it was not my plan to marry Carma with Saffron!

So... wait and see.


15/04/09

Today... Initiation to housework...

A vacuum cleaner??
...No fear!!



... Well, as long as it doesn't move and as it doesn't "scold" :-(


As for Jin Daa... it would seem that brooms is not going to be her best friend (it remembers someone, but who??)





14/04/09

In France, we often say " such boss such dog "...
... That we are going to transpose here by " such boss such cat " .

Whereas Emmbé becomes enlightened by numerous readings, like his mom...




. Hinano-faithful to his name - gets lost in the drink (a beer?)... like his dad...
( And sometimes even like his mom ;-)




If we follow this reasoning we can reasonably think that...
... Endy's parents are big sleepers??!!





13/04/09

Happy birthday Miss Jacky!
1 year old today...
A special thought to Mum Serina :-)




Some new pictures on the page of Lady Jacky


08/04/09

Endy left with his new dad today...




Endy... he was " my small sweetness ": reserved, delicate and demanding with the leg caresses and cuddles...

With 3 kittens left, the house is a little more quiet... a little emptier in reality :-(


06/04/09

2 of our kittens left this WE to join their new family.




Hinano in the arms of his Mom Stéphanie, her dad whispering me " you don't imagine how you are modifying my living conditions "
(This dear Sir KNOWS that he is going to be abandoned some time by Madam;-))
But, Florent??!!! This is JUST NORMAL!

To explain everything to you, cat's friends who are reading these lines, Florent is the one who presented me (twice!) the man of my life, the father of my children :-)
So, knowing which one of us had his life the most upset by the action of the other one, I believe not to be the most "guilty" .




... Emmbé.
I am sure that Ghislaine his new mom deceived me .
Emmbé doesn't mean "Darling" but probably " little prince " .
Because you have to know that . Emmbé has NO 1 travel's bag but TWO, doesn't have some toys but FULL of, doesn't have some candies, but enough to hold a seat of several months, nor simple accessories but real jewels;-))
Without forgetting the most important: an absolute and unconditional love .

Photos of our loving babies at 11 weeks "here"


29/03/09

5 very cute kittens playing .




... The sixth?

Aaarrrggghhhh!! He tempts the climbing of my knees….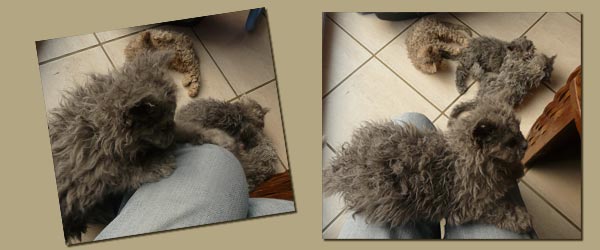 Photos of our loving babies "here"


28/03/09

A lots of courage to the future parents of our little monsters .

... The mealtime is a bit folk and we try to teach them the descent of the table (" Come doooownnnn!!! ")...




... Or chairs (which are ideal to arrive at the ultimate purpose (the table, for those who do not follow;-)) .




... Well we have to work again about this!!
We'll have to be persevering . more than them in any case!




Endy the Rogue understood everything: having risen on the table as all his sisters and brothers, he found a (good?) hiding place not to be scolded !!!


26/03/09

Some of the new parents of our kittens competed in poetry for the name's choice of their future companion:

Emmbé is translated by " Darling, beloved " in Tamil
( E ) Niran Dao by " Eternal Star " in thailand
( E ) Jin Daa by " precious Jewel " in thailand

Other future parents are much more close to their (daily?!!) preoccupation!!
So... Hinano is the name of a Tahitian beer ;-))
Strangely my veterinarian knows this beer... Should it worry me?!! (Hi to my great vet!)

Nothing to do with the comments above, but I don't resist to post a photo of our nice Carma, very in curls:





18/03/09

Those shoes have probably something very special...
... Maybe the smell;-)

Darling, I looooove you!!!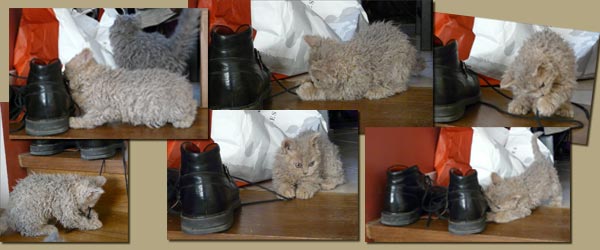 17/03/09

Shoes attack!!!!

New photos of our loving babies "here"





05/03/09

Finally, our 2 lilacs kittens were... born into roses ;-)

Some new photos "here"




27/02/09

Poor woman of me!!
I do not know how to recognize any more the girls of the boys .

At the beginning I was persuaded that our 2 lilacs kittens were boys. the fault in their very curly hair at this concerned place . It made as a small bump.
Thus, logically, I deducted from it that it was their virility;-))

But all my babies grew and for the small heterozygotes, the doubt was not allowed:
The girl is indeed a young lady, and the boys are small guys...

For the homozygotes, the doubt already settled down some weeks ago!
But I do not manage to decide of what kind they are! Although I am almost sure now that we have to deal with 2 girls!!
I was so persuaded at first that they were males, and now I am so persuaded that they are females, that I prefer to reserve my judgment!

Visit to the vet for vaccination next week I wait for his verdict!!

Photos of our transsexuals kittens here ;-)))




26/02/09

A view of the very hard life that we impose to our cats (and to our children;-)



21/02/09

The time when it will be necessary to let go my kittens is still far...
But just to think about that... and the sadness arrives...

New photos on "Available kittens "






17/02/09

Pedigrees of our cats and kittens are (finally) on line!


14/02/09

Our babies are more than 1 month now...
They go marvelously, investigate their environment, come to say hello to us, attack our feet...
... And sleep a lot... (the discovery of the world, that gets tired;-)

New photos on the page "Available kittens "






02/02/09

Our kitties are more and more autonomous and begin to play together!




Although some of them seem to be shorthair, all our kittens will be longhair.


31/01/09

Finally some sunbeams....
Saffron had some moments in the sun and defied the fresh air...

The girls (too sensitive to cold, it's well known;-) did not put a hair outside!





1 hour later... Miss Jacky decided to see by herself the temperature...
But as her friend Saffron, she did not stay for a long time (3 mn, no more!!)




28/01/09

Our kittens grow well and are more and more adorable!
The only girl of the litter is the plumpest;-)

Our babies have well-opened eyes and they begin to make "rolls" very funny to look...

New photos on the page "Available kittens "


19/01/09

Our kittens have 10 days today!!
We had a great surprise: we don't have 5 curly kittens... but 6!!! (Thanks Serina and Bianca to notice this;-)
First photos on the page "Available kittens "

Pedigrees soon on line...



09/01/09

6 Kittens were born!!!
we have 5 curly and 1 straight;-) Probably the beginner's luck!
There is 2 lilac and 4 blue, probably with silver tabby, or smoke .



02/01/09

Chamade in full forms;-) and quite in roundness! Don't know how much they are ... But she looks like. well. nothing! Or maybe to a rugby ball?!!



Chamade follows us step by step, I believe that she doesn't want to be alone when the big day will arrive!



We installed for her some attractive nests in our bedroom... she has only to choose.
but . Chamade prefers spend the night to come to hum, to mew, to coo (I swear: it's true!) in our ears...
And it's not the worst: she passes and goes back on our stomachs, our faces, in brief she wants us to know that she is there (and we know it!)

Thus, nights are rather difficult for us, poor humans!!