Archives : 2007/2008 - 2009 - 2010 - 2011 - 2012
21/12/12

Cool attitude...




No cool attitude!!!




Merry Christmaaaassss :)))


09/12/12

Shy Harald...




... And Proud Harald:)





08/12/12

Myriam sent us some pictures and news...
Elium is a 3 years old baby from Carma and Saffron... and he loves to sleep with Little Nils:)
THANK YOU MYRIAM!!



And Hozzy Boo... at Christine' s home





15/11/12

Cats... everywhere...



... everywhere...



... everywhere...!





12/11/12

Hi...



... That's us!!




02/11/12

Sleep and cuddles with Chamade...




... But not with Happy who wants to eat Kali's tail!!





01/11/12

Those who play...




... And those who sleep!!





27/10/12

Meetings :)




23/10/12

Little ones of Jacky :)





13/10/12

Do not stand at my grave and weep,
I am not there, I do not sleep.
I am in a thousand winds that blow,
I am the softly falling snow.
I am the gentle showers of rain,
I am the fields of ripening grain.
I am in the morning hush,
I am in the graceful rush
Of beautiful birds in circling flight,
I am the starshine of the night.
I am in the flowers that bloom,
I am in a quiet room.
I am in the birds that sing,
I am in each lovely thing.
Do not stand at my grave and cry,
I am not there. I do not die. Mary Elizabeth Frye




And cause life still goes on ... photos of Jacky's babies on kittens page ...


11/10/12

Tired??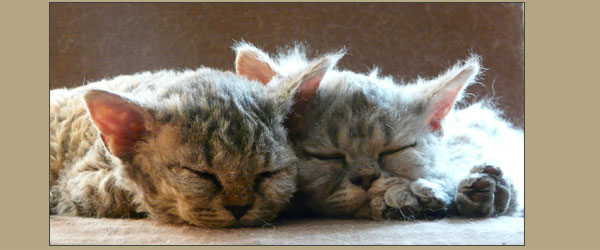 Pictures of Jacky's little ones soon...


27/09/12

To do nice pictures, important thing is not to have a good camera (although it could help a lot) but getting the right accessory.
Here, it's toys with feathers... I shake it and... everybody reapplies...
The problem is that I CAN'T take pictures of little ones only... the bigger rush... and as they are much larger... they are often featured on the photos;-))

But hey... if it makes them happy... I just have to let it do!!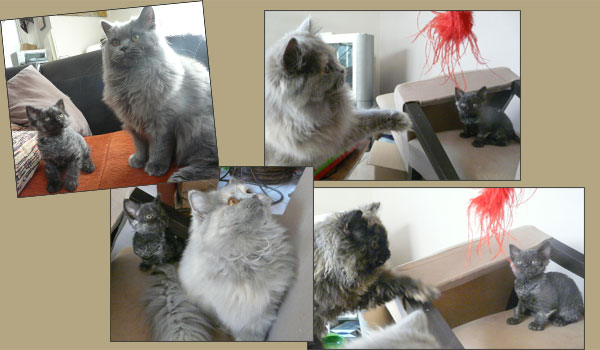 20/09/12

This night, Jacky gave me 4 little surprises!!
After an unexpected meeting with Nemo 2 months ago... Result is:



After 3 close pregnancies (The 2 last were accidents...), my girl served like a pro:)
As usual, my lady took her time (ALL THE NIGHT), as usual II have not slept and stayed with her to reassure her, but also to help...:
3 babies were badly presenting, and 2 of them came by the tail :(
A first time for me and for mum Jacky, but she has pushed... and I have pulled;-)
I am very proud of her (and me!!)
Everyone is ok and I am pleased to have my first chocolate baby!!! (the only straight on the litter;-))
More photos soon...
... and pictures of little ones of Carma too! But don't worry: you don't miss anything! They are absolutely awful, without hairs, big ears and eyes... homozygous, nothing else!! But I have to admit that they are really cute when playing with the older: they seem soooo tiny!!!
That's all folks!!!

Ah! no!! Just a word to say THANK YOU to my friend Isa who supported me all the night (all the night?? she dared to fall asleep;-PPP) through her encouragements (thanks too to unlimited plan SMS!!)


09/08/12

Kisses :)




And now, ladies and gentlemen.... pictures of our babies on kitten's page!!


06/08/12

Happy and Harper are 5 months old now, and I've finally decided to keep these 2 princess :)
Harper is a super glue...Happy is a ... tortie: she thinks SHE is THE boss.
But Happy is always purring and cuddling too.
These 2 are just like I want...!



Hummm... Pictures of new babies soon... I swear!!


27/07/12

Harley is free.
He loves to be cuddled and puuuurrrs a lot:)

Ooops!! Something important to say... ;-) 4 babies were born on 21 of July due to the LOVE between Carma and Nemo!!!
2 black boys
1 blue tabby boy (siver?)
One little Miss Black torbie
The 4 babies are curly :)... Pictures soon...




02/06/12

Never (NEVER) believe that basic rules of good education are acquired,
Never (NEVER) let the table unattended,
Or always (ALWAYS) get rid of any food!!!





31/05/12

Some news of our offsprings :D

Miss Gypsie at Chatterie de Peyrat with Corine and JC :)





Full Moon and Galaxie chasing (yes!!)





And Hinano transformed into a bag by Steph & Flo :( :( :(





Noooo!!! Hinano is okayyyy :)
Just that Stephanie and Florent have soooo much imagination;-PPP





27/05/12

Broken... but fun!!





10/05/12

A quiet corner... Each his own :)





21/04/12

Greedy??




20/04/12

I caught a mouse:)



Me too... ;-)




10/04/12

Each turn!!





09/04/12

Our kittens grow up and some have already found their vocation!
... A footballer...


... Crane operators...




In another kind, those who have decided to enjoy life:)


And finally ... the sh... (because there is always one;-)))




05/04/12

To see more...


... Go to kitties' page!!


29/03/12

Our little punks!!


More pictures on little monsters page :-D


19/03/12

More pictures on kitten's page :)





16/03/12

Auntie Carma says "Hello!"
Pictures of the little ones on kitten page :)





13/03/12

Babies from Jacky!!



And NOOOWW, Ladies and Gentlemen.... pictures of Chamade babies on kitten's page :-D


12/03/12

Chamade's babies :-)
more photos soon...


For those in a hurry (or curious;-), just ask for more photos by email!
Pictures of Jacky's babies coming soon...





09/03/12

Jacky gave birth!
This lady (who always takes her time to deliver her kitties) began work Wednesday night at 11 PM.
The first came by the seat and had a little trouble getting out, but after 9 minutes (let us be precise!) a 2nd baby arrived safely.
Then Jacky has started taking her time and she and I spent the night together (I want you to know that I have not slept ;-))
Then, two other little ones pointed the tip of their nose between 2:00 and 7 am.
Contractions cease, I think that the timing is perfect: it's time for me to prepare for work (and pretend to be ok ...;-)
At noon I verify all is going well: everyone nibbles Mom's breasts vigorously :-D




But surpriiiiise!!! When I came again in the afternoon to make sure everything goes well ... a 5th has arrived!
So, we finally are proud to announce the arrival of five mini-Selkirks:
2 curly blue girls (one homo?)
A cream curly little guy (homo?)
A blue-cream straighthair girl
A blue straighthair prince(ss) ;-)
Mmmm I really think I am right on gender;-)


05/03/12

It's with a HUGE pleasure I can announce to you the birth of a pretty colorful litter!
Since this morning, Chamade is the proud mother of 6 BB all curly :-D
As usual Chamade was ok to pop out babies but was not ok for cutting the cord or eat the placenta ...
So I had to do this by myself (noooonnn, I do not eat the placenta! I throw it!).




It seems we have three boys:
One black, one blue (tabby?), A colorpoint (yes Chamade carries colorpoint!!!)
And 3 girls:
A blue-cream (silver? Tabby? Lilac-cream??), A black-tortie, a black torbie.
The six babies and the two mothers (eh! I do not count for nothing!) are doing well :D


03/03/12

After having too much fun with girls, Némo was full of knots…
It was really impossible for me to groom him without hurt him.
So I logically opted for a radical solution…



Believe it or not, but the funny is not Nemo's new hairstyle but the reactions of Christine and friends ;-ppp
After a "aaaaaaaarrggggggggggghhhh" who means "I DON'T (aaaarrrrrrggggghhhhhhhh) LIKE" and not "waow supeeeeeer" (strange, isn't it?!!)
I have a "My head is in the gas oven....if I had a gas oven" (100% pure Christine;-)
And a 'Nemo will need a psychiatrist"

Without forgetting the (hilarious) comments on facebook ... (I invite you to see: you will spend a wonderful moment;-)

So… when Nemo's hair pushed back ... I will do it again ... just for fun to see / read Christine and company, all close to fainting-ppppp


29/01/12

With some delay, here are the (orgasmic) reactions due to Santa Clauss'gifts (well... due to Miss Nightmarish Christine;-))
Noooo!! I do not pass personal message ;-pp





15/01/12

Happy new year to you!!

Some news for this new year!
Chamade has met Nemo again… we hope for babies first half of March!




Chamade's bliss has surely given ideas to Jacky;-) ...
Or rather Saffron who managed to open a door and go to cuddle with the Miss who was really (REALLY) in big heat ...
This meeting is not a decision of my part but we believe that these two were promised together for hugs again ... : 3 months ago Jacky has managed to join Saffron ... which fortunately was not given new birth.



Results first half of February ...

As for our little Gadjo, he becomes more and more beautiful ... and more and more cuddly.


For more information about him ... contact me!