Archives : 2007/2008 - 2009 - 2010 - 2011 - 2012
18/09/17

Pictures of our ex babies!!!

Harry (Jacky x Saffron)




Merlin (Toni x Gadjet)



His brother Mogwaï (Toni x Gadjet) and Marcia!



Ludwig (Toni x Saffron) :)



And Mia (sister of Mogwaï and Merlin!) with her friendfishs!



And our Ermione (Carma x Saffron)
Ermione is one of the babies of our second litter!




14/08/17

Lots of news from our babies:))
To begin, Mia(Toni x Gadjet) enjoying the garden:)




Miss Luciole (Jazzy x Safffron) gave birth to 3 little monkeys at Renée's home:)
Heres is the little ones:




And the same, some weeks later!



Merlin (Toni x Gadjet)... enjoying water!!




Fleur (Jacky x Saffron), Gordon (Chamade x Nemo), and Loona (Jazzy x Saffron)... or our 3 shades of grey;-)




Our great Ludwig (Toni x Saffron) (life seems to be so haaaard;-))





10/08/17

Chamade watching a kitties tv report!!





05/08/17

New basket in the garden: THE PLACE TO BE!!!





20/07/17

Harald's (Chamade x Nemo) great life:
eat, drink, and...;-))





19/07/17

News from Lasko (Toni x Saffron) and his friend..
Trump attitude?? :-DD




Zero stress ...


Pictures of our other babies soon:)


02/05/17

And because my heart mustn't forget the joy...
Some news from lovely Lums...



... Who is a rock star!



News from Mia...



... who likes water, but just a little bit, and thanks to notice she is a gentlecat: she use the towe! what a great education (due to me of course;-))




Sweet Ludwig... A cat to shop?!



And finally, our Tony who wanted to go with us in holidays;-)





01/05/17

I want to remember Carma in all her mischievousness, when she was just behind the flap to prevent her friends from getting in, or when she was sleeping next to me her nose in my socks... Or 2 months ago, wanting to do babies with Harper;-)





Carma, my sweet Carma, left us a few weeks ago.
Carma was my shadow, always a few feet from me, the first one to ask me cuddles, the first one to be on my way... She was looking for my look asking me "Love me! cuddle me!", Carma was sweetness and gentleness...
A little part of me left with Her and I reaaly hope that Carma KNOWS I don't forget Her.
I miss you, Carma


06/03/17

Sun is here!! So Jacky, Happy and Jazzy enjoy the garden:)




But Harper prefers to stay indoor..





04/03/17

News from our little Hari, my only chocolate baby on more than 60!




:-DD




Princess Hermione, to 'handle with care' :-DD
Thank you Thérèse:))




Mia who has finally arrived to climb the library...
Well done!!



And Ludwig's great eyes..




22/02/17

Mia became a Paris- girl!!
She let us with empty heart but with lots of memories;-)
Mia in her last days here:




And now in her new forever family, with great point of view on ducks, and fishes :)))



(and if she can't eat the ducks or the fishes, she can try orchideas;-))


21/02/17

The new place to be!!
As we are not doing half things, we don't have 1 nor 2 aquariums, but 3;-)
Cats are happy, and we are too!






06/02/17

Some news from our 3 Musketeers!
Fluffy la Fleur and Gordon Arthemus perched on a refrigerator...



(Not the best way to not finish in a stew of cats!!)

Gordon again, with his friend Loona... Asking themselves how to pass this strange new door: -DD




And also news from our Luciole, top fashion to face the cold;-P





21/01/17

Mia is still available:)
More pictures here





20/01/17

Happy new yeaaaaar to everybody!!
Some pictures of our babies now in their new home! Enjoy!!!
(Mia is still available. New picts very soon:)





29/11/16





28/11/16

Molly in her new forever home, in Paris, and Maestro on his new sofa:)




Fascination on TV and in front of PC
New pictures of babies here!


27/11/16

Happy life...
we play...




We eat...




And... we drunk - or we bath... I am not sure;-DD




09/11/16

Aïe aïe aïe!!
What about education?;-)




And babies in their home:
Ludwig:)




Lums with her great cat tree!




And Lasko on his favorite place:-P





03/11/16

Harper and Jazzy... taking a look on babies... Better there, than playing with them:-DD





20/10/16

Ludwig, Fleur, and Loona, as cooool as possible in their home:




... And 'baby' Lums:)





18/10/16

As usual: a nap on my son, a party on my computer :-S



New picts here


10/10/16

Ok... it looks like something 'déjà-vu'... But it's so cute:-P




And a very special thought for Horson, who is now with angels :-(:





28/09/16

News from our offsprings
Our little wild child, Luciole (Jazzy x Saffron)!




Our Princess (and that is not me who say this!), Hermione (Chamade x Nemo):




Our pasha, Ludwig (Toni x Saffron):




And our really gorgeous June (Happy x Saffron):





27/09/16

Another saturday night fever on the sofa:-D Babies are 4 weeks old.
Miss Mayotte (called like this by my girl), sweet and tender:




The starved one!




Little naked, but hairs begin to grow again;)




And the second starved one: a true greedy!!




And last but not least: my sweet great red boy:



And after having fun, babies are at the milk-bar! :-D




To see pictures at 5 weeks old it's by there


20/09/16

In the real life, not free yet in the room, but soon...





16/09/16

Babies don't gallop yet, but they crawl, they stumble, they fall, well... they learn life;-)




And just because the resemblance is amazing (not ??), here's my little panda:



And finally ... a Saturday night on earth, It sometimes happens like this here: TV night for children and for toads!!


With auntie Carma who watches, and my little hairless, warm under the duvet:-D





05/09/16

Babies grown,
Homos are loosing their hairs (one is almost naked;-),
And others proudly show their:-DD
Some gnomes' pictures here!





02/09/16

New pictures here!





31/08/16

News from Lums (Jazzy x Saffron)...




... And Ludwig (Toni x Saffron)...



... Who likes to be comfortable :-DDD





28/08/16

Very (very!!) tired after the bottle...




Competition yawning!!




27/08/16

Babies grow...



... Faster or slower :-DD
90 grams between these 2!!




26/08/16

Some (not nice;-)) pictures here :)





24/08/16

5 little wonders (inevitably!) were born this 22 August :)
Toni had the "good" idea to hide one back in a dressing, a second one in the bathroom and the 3 others on the top of the cat tree :-S
Once everyone has been found and reunited, here what it looks like:



Sorry!! I just could not do better than this!!
But (best?) pictures soon :-DD


11/08/16

Little Luciole (Jazzy x Saffron)...



... is now a big girl!




We visit her some days ago at 'la ferme du Krefft' and it was great to see her with all her friends with hairs and feathers:)


07/08/16

And now the good news:
Miss Toni has had a rendez-vous with Gadjet...
Babies should come at the end of August:)






02/08/16

Sleep my Saffron, Sleep...
:'-(




Saffron passed away 2 months ago.
Our heart is broken, we'll never forget his kindness.
RIP my sweet baby.


07/05/16

Many pictures of our babies!!

Goliath melt with the snow..




Luciole at her favorite place,




wich is the one of Loona, Gordon and Fluffy la Fleur:)





Ludwig and Lasko, ready to go :-DD




Horson, always on good ways;-)




Our mini-Harper, I present Mademoiselle Lums!




The 3 musketeers + some others:-P




And Monsieur Ludwig, again and again!





09/03/16

Haribo (Jacky x Nemo) at home with one of his hair friends!





07/03/16

And one more of our straights: Loukoum (Toni x Saffron)





05/03/16

"Little" Lasko (Toni x Saffron) at his favorite place <3





03/03/16

Lums (Jazzy x Saffron) is a mini Harper:)
Look at her eyes... She seems soooo... mad :-DDD




Need a walk? ;-)





01/03/16

What a surprise!! A Komondor dog... more sheep than my cats;-)





16/02/16

Miss Luciole and her BFF: Gaïa!!




And Luciole again... with poor Daddy trying to read;-DDD





10/02/16

Funny way to sleep, by Laskoo and Luciole...




... And the Oscar goes to... Ludwig!!!!





21/01/16

Happy new year from our babies:-D





21/12/15

Geek?? :-DDD




19/12/15

A ball or an old cardboard box, no matter, all is ok for playing:)




Then, it's wet food time
We don't like it... We looooove it!!!
Fortunately, the olds (mmmmm the Adults;-) let the priority to us;-)))



And finally, as we use to eat like pigs, self-cleaning time ;-DD




09/12/15

Nothing new!!
As usual cats love to be under the Christmas tree:)





07/12/15





29/11/15





22/11/15

Girls in action:)




08/11/15

Ludwig and games...
Lasko and friend :-))





06/11/15

Here is a sof(c)a(t)...
Mmmmm?? Better joke in french;-P




24/10/15

Babies grown, eyes are open on the world, and legs are ok for walking at the same time than the rest of the body ;-DDD



Pictures here :)


22/10/15

Already the time to be with us!





20/10/15

While Loukoum is taking a rest,




And than Lasko is feeling the groove ON the radio,



Ludwig, is loosing his teeth, to become an adult:)





14/10/15



More pictures here


01/10/15



Jazzy had an infection and had to be neutered:-(
Fortunately she is going great and can feed her babies now.
That's really better than my bottles;-)


28/09/15

Ludwig...



And Lasko in his 'bed';-)
And... cooking...? :-DD





26/09/15

Because Life gives a lot but takes sometimes too much,
Because I just can't act like if they had never existed,
Here are pictures of my 2 fallen angels :-(




Pictures of the 3 little princesses here...


25/09/15

Mademoiselle Jazzy, very very (big) pregnant:)


Babies are now on earth! Pictures very soon (I swear!!)


07/09/15

Little beloved corners for our little beloved kitties :)




And funny ways to dream for Ludwig:-DD





28/07/15

So sweet babies...



New picts here ;-)


26/07/15

Like at Roland Garros!!!





25/07/15

Loukoum is still available :)





19/07/15

cool weather:




... too hot!!





05/07/15

Time to play...



... And time to dream:)


My "babies" (with and without hair;-)) love to share the sofa!


24/06/15

Comfortable...



Not comfortable:-P


And some hairballs picts here ;-)


22/06/15

Scotched!!! Like my children when they watch TV!!





20/06/15

Very VERY tired!!





10/06/15

The Curleone:-D





06/06/15

Just a little kiss!




And for your pleasure it's here ;-)


27/05/15

Here is a 'sofa evening'!!
Great great time for babies... And me:-DD





26/05/15

Babies are in contact with everybody now...
They are growing so quickly!!




And some new picts here :)


17/05/15

:-)





14/05/15

Some new picts here:)
Their eyes begins to open on the word... Great!!




08/05/15

Toni is mum again since last saturday:)




But this one passed away...
Good night little Angel:'-(




05/04/15

I am unforgivable...
I regularly get pictures of my kitties, but (by lack of time, of energy, of good computer...;-)) I fail to make you enjoy (bad giiirl;-))

So, today,for forgiveness (both from you that of the adoptive parents!) here some news of my little ones (and sorryyyy for those I forgot:-S)

To begin, a special Jules and Julia (and also a little game: Sometimes you (really) have to look for the cat;-))




Ma Demoiselle Hermione Always at the GOOD place and in Good company;-)



The star Garbo:



The 2 Harry/ Hari, one homo and one straight:




And finally a great medley:-D





03/04/15

Punished!!



I said: Punished!!!




01/04/15

So... So... Sooooo.....
What you see here is toni's way to please Saffron...
She is VERY in demand and she ABSOLUTELY wants Saffron to be her fiancé...


Saffron did choosy (the Gougeat!!) and took his time to answer the desire of the fury Demoiselle;-))
My Saffron is soooo romantic:-PP

It began with small kisses:




But finally... He went hussar:-DDD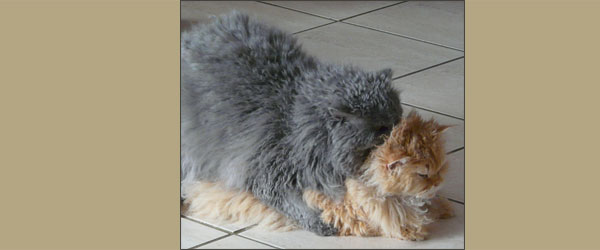 And at the end... Here is a filled Toni!!!


(And one exhausted Saffron!!)




30/03/15

Hello everybody!!!
I'am back after some mishaps...

So... just for pleasure of zen pictures, here is ma (big) Chamade in her coolest attitude:-D




And some very good news soon!!


23/11/14

Mmmm.... Maybe later :-P





09/11/14

Playfull babies:)...




... Careful Granny;-)




New picts on kitten's page :)


14/10/14

Rhhhhoooo LOVE them :)))





11/10/14

Babies are growing and growing... And they grown absolutely FANTASTIC:-D





07/10/14

Jaïlys (Jazzy x Fidji) looks so sweeet...




She seems to be very friendship with Doudoune and Etbaï...




But in reality...
Jaïlys is a little thief...




... And a good Karate cat;-PPP




And finally, some pictures to remember She is not just a Deamon, She is a little Angel too :-))




29/09/14

Meeting!!





27/09/14

Playtime for Miss Hairy:)




And new pictures of babies and Java Here!


26/09/14

Hairs are growiiing!!!! Houraaaaa!!!





13/09/14

Some new pictures of Java and little monsters HERE!
Very hairless, very awful;-))





12/09/14

Some new pictures on Toni's page





02/09/14

As always, life must go on, so...

Some pictures of our Frightfuls on KITTEN page ;)
Yes!! Frightfuls!!
For now quite hairless, and gremlins look-alike, as 3 of them are homo!
I am probably the only one to find them... cute (?) ;-PP




01/09/14

My little girl was (even only 2 days old) full of life and fought like a lioness to acces her mother's breasts...
... And I do not even talk about my bottle she sucked greedily:)

2 short days with us but already so endearing :-(
So... for her short life is not just only a memory in my heart, here are 2 pictures of My Demoiselle



Bye-bye my sweet bawler <3


30/08/14

Jonasz has gone with his new family and now Java is the only kitti at home...

BUUUUT...




... Happy gave birth to 5 little monkeys early this morning!!
Information soooon:):):)


29/08/14

Jazzy doesn't want anymore her kitties...
But auntie Chamade became their new mum!
She has not be pregnant or get babies for 2 years, but Chamade LOVES them as if they were her own, and- INCREDIBLE- (I swear it's true!!!) she produces milk!!!




Great great life :-D


27/08/14

Little Java is still available:)

... And.... And?... And??!!!
And Happy and Saffron will be parents soon!!
First time for Happy and probably one of the last times for Saffron;-))


03/08/14

Java and Jango are available for a loving family :)




Jango, little purring guy...
Jango becomes nice again after a time where he was... (ugly?) not very nice;-))




And Java, Demoiselle soooo cuddling and sooooo purring... when she looks at you, she seems to say "love me, love me, love meeee!!!"





01/08/14





23/07/14

TV!!





10/07/14

:-)





27/06/14

A little shoot?!!





26/06/14

Have a snap?




22/06/14

...




Before...




...




After...




18/06/14

Anne Geddes... Here I am;-PP





16/06/14

Mmmmmmmmm smells goooood!!!



But it really shoots:-PPP




08/06/14

New picts on kitten page :-)





05/06/14

Pictures by millions on my computer, not enough time but ask and I will mail you:)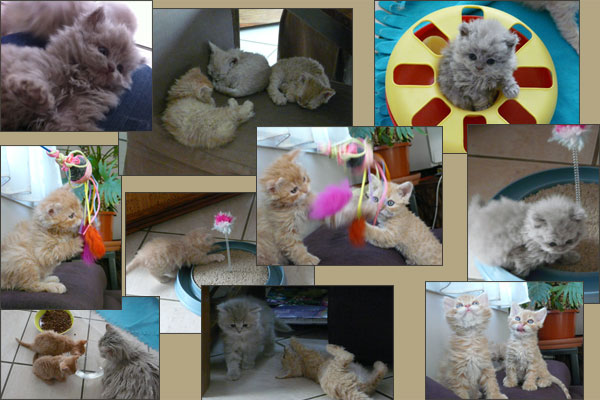 23/05/14

Pictures here!






22/05/14

Everyone knowing Toni knows I bet my life taking these pictures in her presence;-))
Toni is a very protective mum, but happily, her boys grown, and now she let me do (everything?) what I want;-PP




Toni is an italian mama :-D :-D :-D


21/05/14





20/05/14

New pictures on KITTENS PAGE





15/05/14




Some new picts of the babies and Toni too on their page:)


09/05/14

Jazzy in a quiet place to feed her babies...




And Toni in the kitten place in the living room:)





07/05/14





04/05/14





Some hesitations about what can be eat... or not!!



New picts on babies' page!


02/05/14

When I arrive with my milk bottle, babies call me very loud, but once they have drunk, they just want to sleep...





01/05/14





Pictures by there :)


25/04/14

There are clearly some strategic places at home to watch birds...




... (and hope to catch one or two)


But... that was BEFORE the time Jazzy becomes a Mum!!!


24/04/14

Before this...



There was that;-)


And then, 4 little Schrecks arrived on April 21...


Schreck??
The ears of course!!! (I can't be the only person to see the similarity?!)


And soon, pictures of the little monsters!


21/04/14

Selfies!!
Last night was bad night: Jazzy who is about to deliver passed her night to pass on my right, then on my left to find the better place (and didn't found it:-S...)
So I passed my night to try to avoid her ass :-SSS




And last but not least...
Jazzy trying to keep my head with her leg to kiss me again and again:-D :-D :-D





And some new pictures of Toni's babies here... :-)


14/04/14

Sweet Harper :)




and new picts of babies... :-)


13/04/14

Pictures of the babies on kittens page :)




And... Pages of Toni, Bertram, and Fidji!!


09/04/14

Welcoooome guys!!!
Here come the firsts Jardins de Bubastis' babies since... too long time;-)




Toni delivered very quickly on monday's night!




Those 3 big boys will be present to you very soon:):):)





03/04/14

Sometimes Carma prefers cozy places...



But sometimes Carma prefers to sleep standing... just between the TV and me :-S





30/03/14

Surprise!!!
There is a new girl in town:-)))
More informations on her page very soon:)
And... lucky me... Toni (that's her name!) will have babies soon :-D





10/03/14

Closer to the stars...





03/03/14

Little kiss from Kali to HER Jazzy...
Yes... HER Jazzy... Kali is sure that Jazzy is HER toy;-)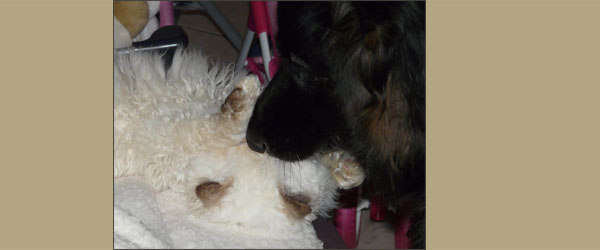 23/01/14

Miss Jacky and her daughter:)
Jazzy is on line...here!!




27/12/13

When the Christmas trees arrived, we had to check that everybody was willing to adopt...



Once every cat aggres, they have become the place to be for good naps:-D



But obviously, the shade of my children's trees was very much better than shade of mine;-))



Never a cat beneath!! :-D


11/12/13

No need cushion... the important thing is to be propped:-D




And... Because everything (finally) happens... cat's page is updated!!!
Just have to go there!!!


08/12/13

View and re-view too;-P





14/11/13

I know... it's view and re-view... just can't stop to take pictures when my girls prefer to be here than on a comfortable sofa or the cat tree;-)





01/11/13

Hungry?? :-PPP





27/10/13

Yeeeeeeessssssssssss
I've Got iiiiit!!!!!!!
My own Katzen Deko!!!
A BIG THANK YOU to my Isabelle:)

So... It was yet on the ground but cats were already in love;-)
Everyone wanted to sniff it, scratch it, or climb it:-P




Once it was up, just happiness and discovery!!

Harper tried EACH platform...



... And the base too;-)))

Happy just wanted to rest:)




Carma was not sure ("I go? I don't??")




And finally yes;-DDD...;-)




And Chamade perched up there: She stayed 1 hour, dominating her world :D




Finally... everybody (cats AND humans) were very happy!!!





21/10/13

This little one is Indigo, a grand son of Chamade and Saffron:)
Indigo is 5 months old and looooves cuddles with his mum Laurence.
Bit it's time now for him to find his definitive family ;-)
For more information, please contact Laurence at the cattery Nenette and Co !





12/10/13

Cat's lover... Sure you know this :-S




And this too;-)))





06/10/13

Still alive;-))
After a long pause here we are again:)
Bellow, Jazzy, Happy and Harper :)
They will have soon their own page...






23/04/13

Favorite place of Happy :)




... And Harper's one!






20/04/13

Typically this is what happens when I sit at the computer...




So...? Am I fogiven for not always being very diligent in my up-date? ;-)


15/03/13

:-D





05/03/13

My babes are true girls: they LOVE handbags!


Although initial idea was to arrange my closet, it seems that my girls wanted to keep everything ...

That's just my luck ... I already struggling to throw, if my cats begin to upset my plans, it's not sure I am on the right way :-s





04/03/13

Some illustrations:-)



And finally... toes wide open:-PP





01/03/13

Some stayed a looooong time up there(waiting for summer?)...




... To end up decide to slooowly descend...



... Oters have feasted:-D





03/02/13

Finally some pictures of our offsprings:)




... And those who stay with me :-D